Michael Elliott, Executive Director of the Medical Marijuana Industry Group
Michael has been the Executive Director of MIG since January of 2011. Before becoming an attorney, he worked on several political campaigns. Most notably, Michael managed the campaign that defeated a proposed ban of medical marijuana centers in El Paso County (Colorado Springs).
Don Childears, Executive Director, Colorado Banking Association
President/CEO of the Colorado Bankers Association, Don Childears has served CBA since 1975, preceded by legislative and campaign work for a Congressman. He's completed his Juris Doctor from University of Denver College of Law, and BSBA from Colorado State University, where he was student body president. Community activities vary including: First Amendment Council, Referenda C & D Finance Committee, Civil Justice League, Governor's Y2K TF, Kids Voting, Housing Council, two graduate schools of banking, and political activities and campaigns. Business activities include ABA BankPac, Colorado Competitive Council Steering Committee, BancInsure, a publishing company, a network predating the internet, and a burglar alarm company. He frequently speaks (NBC Nightly News, ABA's Annual Convention) and teaches government, political influence, and banking. Numerous awards include a Special Tribute by U.S. Senator Allard. He's from Saguache (rural Colorado town) and is married to Linda, President of the Daniels Fund ($1.1B charitable foundation) and previous President of the Young Americans Bank (youth financial literacy pioneer) in Denver.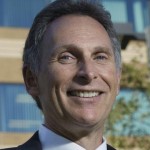 C. Alan Peppers is the President/CEO of the $1.3 billion Denver-based Westerra Credit Union, a not-for-profit, member-owned financial cooperative, that serves over 90,000 members in the Denver metro area.
Alan's top priority has been to provide top-notch service to the membership and is passionate that "Whatever you do…do it for the members!"
Since joining Westerra in 1992, Alan has focused on achieving excellent financial performance. Westerra recently received the Five Star Bauer "Sustained Superiority Award" as one of the country's top credit unions for safety and soundness, based on factors including capital, profitability, regulatory compliance and asset quality.
During his 38-year credit union career, Alan has served in a multitude of capacities for international, national, state and credit union organizations. Alan currently serves on the Board of Directors for the CUNA Mutual Group, the leading provider of insurance and financial services to credit unions worldwide. Alan has also served on the Board of the Aurora Chamber of Commerce, as past Treasurer of the Denver Public Schools Foundation, as a member of the Denver Teachers' Club Investment Committee and is also a member of Colorado Concern.
Alan holds a Bachelor of Science degree from the University of Colorado, School of Business, and has completed the Executive Development Program at Stanford University, Graduate School of Business. Prior to leading Westerra, Alan served as President/CEO of Denver Community Credit Union from 1977 to 1991.
David Migoya, Investigations and Personal Finance Reporter, Denver Post
David Migoya joined The Denver Post in 1999, his second time around (the first was 1983). Since then, he's reported on a variety of topics – from human services to consumer affairs – typically with an investigative bent. Currently he handles investigations for the business news department and also writes about personal finance. He's worked at daily newspapers and magazines in Detroit, St. Louis and New York City over the course of his more than 30 years in journalism and has received some of the profession's top accolades. Personally, David has a passion for traditional music – he's a world-class player of the Irish flute – and enjoys playing ice hockey. As a Bronx native, he's a die-hard Yankees fan, but roots heartily for the Avalanche, Broncos and Rockies (unless the Yanks are in town).